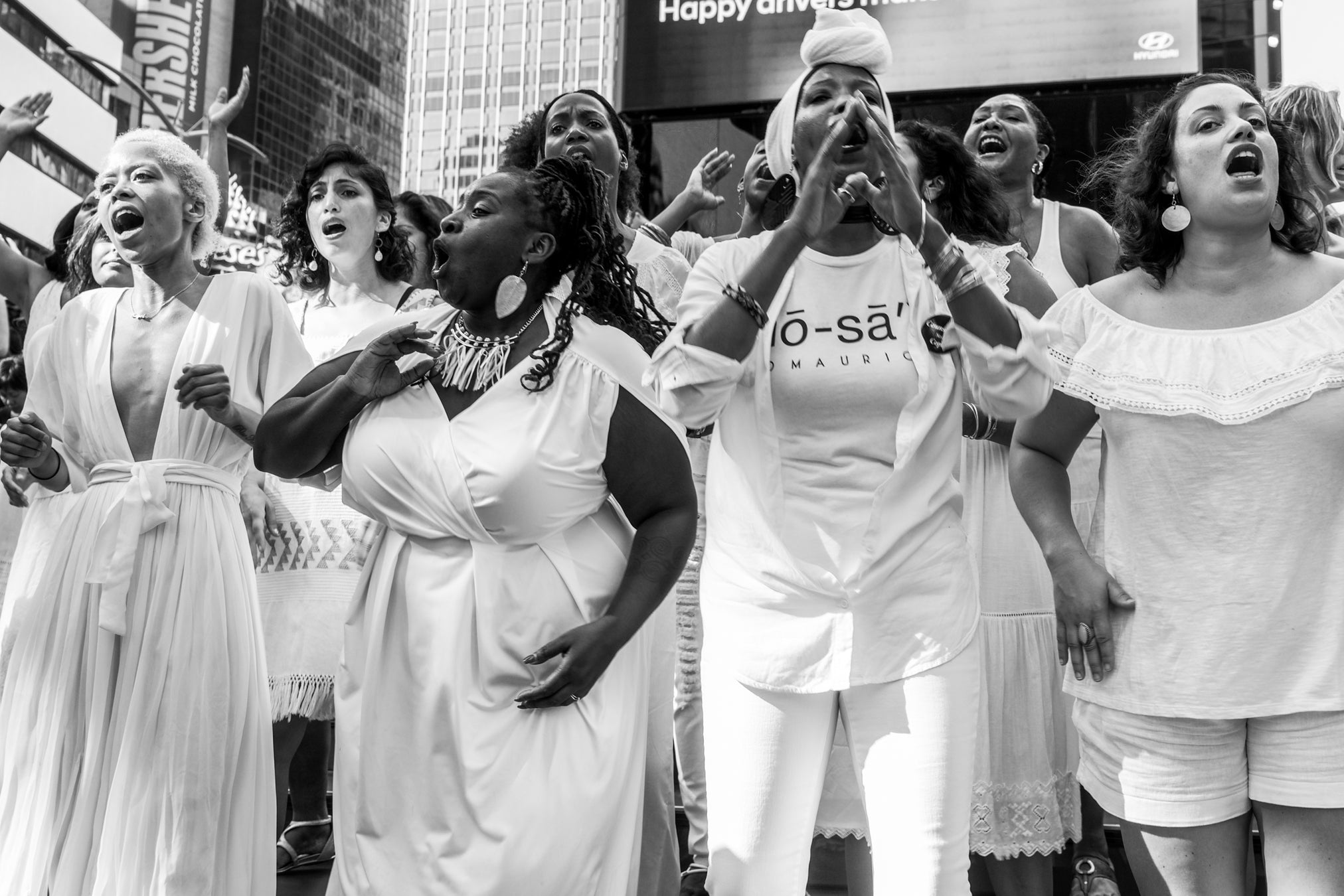 The Resistance Revival: A Restoration of Force
by Brooke Williams
Share
On January 21st, 5 million people, led by women, marched on Washington, D.C. and all over the world to show the newly inaugurated President that his divisive rhetoric of hate and fear was not a reflection of the will of the People. It was the largest mass mobilization in the history of the planet. The voices were loud and clear, sending a message to the world that the resistance is strong, and that revolutionary love will prevail-- even when things look dark.
Six months later, in July, a flash mob of women dressed in white emerged from the crowd in Times Square singing protest anthems and inviting onlookers to join with them as they sang slightly updated versions of traditional songs.
And with that, the Resistance Revival Chorus was born. Brought forth by the Women's March and co-organized by Paola Mendoza, Ginny Suss and Sarah Sophie Flicker (all national Women's March organizers) the all-female group was conceived as something of a beacon-- a central hearth around which folks can gather to inspire and to be inspired, and to gain strength from each other. "An essential element of resisting in a culture war is creating our own culture, one based in love and community and diversity and intersectionality," co-organizer Flicker explains. "The Resistance Revival is a restoration of force, a restoration of hope, a restoration of joy, a restoration of people coming together in community."
Music has always played a large part in rallying groups of people around a cause-- from Revolutionary War Minuteman Joseph Warren's Free America, through Billie Holiday's Strange Fruit, right up to A Tribe Called Quest's 2016 release We The People-- activists have used the universal language of music as a way of speaking in a different and compelling way about the issues at hand.
The Resistance Revival Chorus celebrates this rich tradition by hosting a series of monthly musical evenings, during which individual members and friends of the Chorus perform both original and traditional protest music to a community of audience members that grows with each show. The larger group opens and closes each show with a rousing ensemble piece that gets the audience up and moving. It is a multi-racial, multi-ethnic and multi-cultural experience, with musical styles ranging from gospel/spiritual to electronica and beyond. There are history lessons and heartfelt entreaties to action woven into the fabric of the evenings, with everyone leaving the room armed with a renewed collective sense of hope and purpose-- two things which are so urgently needed now in our country as we try to bridge the chasm between left and right in order to form a more perfect union.
The Chorus will next perform this Saturday, October 7th in Fort Greene, Brooklyn as part of the PEN America Lit Crawl Brooklyn festival and if you're interested in organizing a Resistance Revival Chorus in your area check out this toolkit for tips and inspiration!